Want to make your off-campus study dreams a reality?
No matter where life takes you after Franklin & Marshall, you will be working and living with people with vastly different ways of perceiving our world. Off-campus study will help you begin to understand how to negotiate these differences, strengthening your abilities to successfully live and work in our increasingly global society.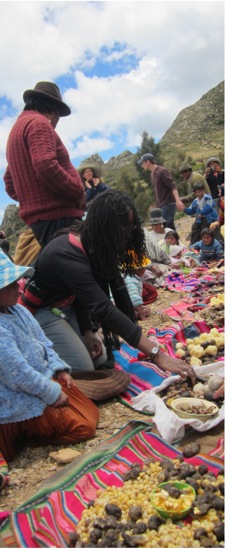 Study Your Major in Its Context. Studying European history in the buildings where that history was made, international economics in a developing country, or comparative politics in a new democracy can make your subject come alive.
Strengthen Your Resume. As globalization sets in, the number of employers who hire those with international experience will continue to grow. Across the world, professionals are being asked to understand the global aspects of their chosen field.
Learn About a Foreign Culture. Immersing yourself in a culture teaches you far more than you could ever learn in a language class or by reading about a country.
Learn About Your Own Culture. Just as you learn about the rhythms of life in a foreign country, you become aware of your own cultural grounding by comparison. You will also be exposed to the way that others view you, which is a great way to reflect on your own culture.
Travel. Once you are overseas, travel to other cities and countries becomes easier and less expensive. You can take advantage of proximity to visit places that interest you, but which you would never make a special trip to see.
Find Your Calling. Studying off-campus gives you opportunities to explore your interests and refine your future goals. Internships, field work, and independent research opportunities off-campus give you experience to help you make those decisions.
Become a Braver Person. Venturing away from your comfort zone is a risk in itself, but the rewards of off-campus study definitely outweigh the risks. Returning students often say that, after living in a foreign culture, they have new confidence and problem-solving abilities.
Statement of Philosophy
(Adopted by the International & Off-Campus Study Faculty Committee, March, 2004)

Recognizing the global nature of contemporary society as well as the need for intercultural understanding, Franklin & Marshall views international study as a valuable component of a liberal arts education. Study abroad promotes an increased understanding of the complexity of language and culture. It also constitutes a critical element of the College's commitment to build an increasingly international campus. Franklin & Marshall therefore encourages its students to give serious consideration to study in another country.

The College approaches international education as an integral part of the entire undergraduate experience. We view it not as a term away from campus, but as an encounter seamlessly connected with a student's entire education before, during, and after the time spent off campus. Students planning foreign or domestic off-campus study will work closely with the Office of International Programs and with their academic advisers to select programs and courses that further their educational goals.